Quick Facts
– Opened in 2007
– Located in Bennington NH (formally of Francestown NH)
– Owned by Mike and Chandee Palmer
– Federal Motor Carrier
– Fully Insured
– Fully Trained and Certified By The North American Towing Academy , and Wreckmaster
– Combined experience of Mike and Chandee in the towing industry is over 35 years (2022)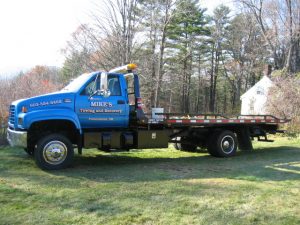 Mike's Very First Truck, Old Blue. Still in service today! pic from 2007
The Whole Story
Mike has been exposed to towing equipment throughout his working life. In fact, his first job was a shop hand, sweeper and greaser, at Ferreria's Wrecker Sales in Chelmsford, Massachusetts where he grew up. A short lived part time job that Mike had very little interest in, Little did he know that he would end up greasing tow trucks for many years to come!
Mike worked several small jobs while finishing school for Automotive Technology and becoming an ASE Certified Tech.
Shortly after moving to the family estate in Francestown NH he became bored with the repair business. Feeling trapped by the garage walls he quickly found himself back in a tow truck and worked for several companies from 97-07 including:
Matts Towing, Allied Auto Wrecking, Kents Towing, Auto City, and AAA Fleet.
Mike bought his first tow truck in 2006. With the help and influence from some good friends, a motivating father, and a wife who had many years of dispatching, accounting, and customer service experience. Yes its true, he married the AAA dispatcher.
Mikes Towing officially opened Jan. 1, 2007, in Francestown and has since become the preferred service provider for every major motor club, the areas finest repair facility's, and five police departments.
In 2012 Mike, Chandee, and son Matthew moved just over the town line into Bennington NH, where they
have continued to grow and thrive. Striving to exceed the needs and expectations of the surrounding community is their standard.
Mike's Mentors R.I.P.
Our Staff
Mike – Mostly seen driving the Blue Peterbilt Ramp Truck, Spends most of his time in the shop building and maintaining trucks.
Chandee – Mikes wife and co-owner – Mostly seen bouncing around town in her black tahoe. Spends 24/7 answering the business phone and dispatching.
Matty – Mike and Chandees son – mostly seen in school (we hope) But has been spending alot more time in the shop and in the trucks.
Paul – Un-Retired, Paul attempted to retire in 2022, but could'nt stay away. 11yr (2023) driver,
Grimace (dave) – 7yr (2023) shop hand and driver, Often seen in "Whitey"
Salami (hunter) – 2yr (2023) shop hand and winter driver, Often seen in "Inkey or Blackie".
Gator (russ) – The new guy, part time night and weekends, Often seen in "Inkey"